STARS presents: Honk!, Jr.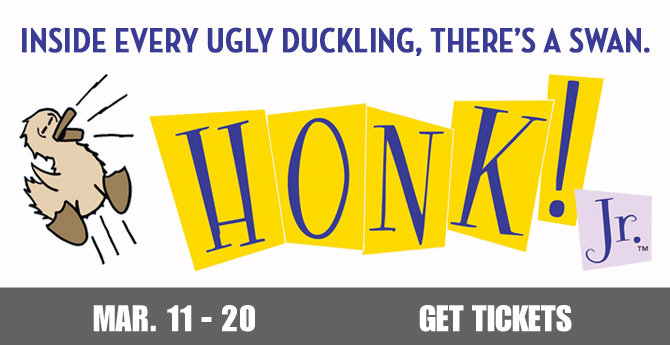 This delightful musical adaptation of one of the most beloved fables of all time is a quackingly good time. Ugly looks quite a bit different from his darling duckling brothers and sisters. The other animals on the farm are quick to notice and point this out, despite his mother's protective flapping. Feeling rather foul about himself, the little fowl finds himself on adventure of self discovery all the while unknowingly outwitting a very hungry Cat. Along the way, Ugly meets a whole flock of unique characters and finds out being different is not a bad thing to be.
Directed by: Tam DeBolt
March 11 – 20, 2016*
Fridays at 7:30 PM
Saturdays & Sundays at 2:30 PM
Tickets: $20 Reserved Seating, $15 Student
*There will be a school performance on March 17th at 9:30 AM. Please contact stars@virginiasamfordtheatre.org for more information.
*Scholarships, payment plans, and sibling discounts available. Contact stars@virginiasamfordtheatre.org for more information. A limited number of scholarships are available. Please fill out our STARS "HONK! JR." SCHOLARSHIP APPLICATION and send it to the theatre for consideration. The scholarship deadline is Monday, December 7.