Roald Dahl's Willy Wonka, Jr.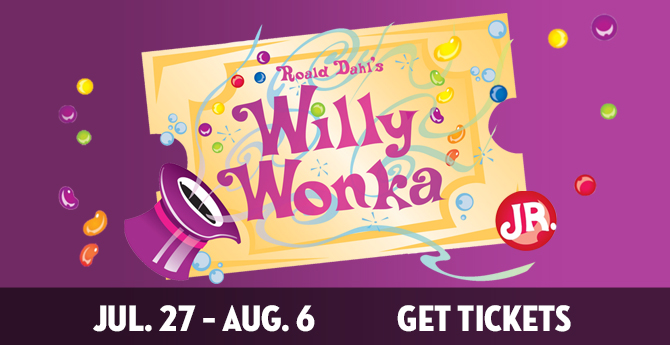 The delicious adventures experienced by Charlie Bucket on his visit to Willy Wonka's mysterious chocolate factory light up the stage in this captivating adaptation of Roald Dahl's fantastical tale. Featuring the enchanting songs from the 1971 film starring Gene Wilder in addition to a host of fun new songs, Roald Dahl's WILLY WONKA, JR. is a scrumdidilyumptious musical guaranteed to delight everyone's sweet tooth.
July 27 – August 6, 2017
Thursdays & Fridays at 7:30 p.m.
Saturdays & Sundays at 2:30 p.m.
Tickets: $20 Reserved Seating, $15 Student
VST Mainstage
Auditions are Saturday, April 15, 2017 at 10:00 am. Click here for more information. DATE CHANGE!
Scholarships, payment plans, and sibling discounts available. Contact STARS@virginiasamfordtheatre.org for more information. A limited number of scholarships are available. Please fill out our SCHOLARSHIP APPLICATION and send it to the theatre for consideration. The scholarship deadline is Monday, May 22, 2017.